Indian Jewelry Stores in Artesia
Gold Jewelry
When it comes to obsession with gold and diamond finished jewelry, no other ethnic community in the U.S. can beat Asian Indians.
Be it Dasara, engagement, Diwali or graduation or sweet sixteen party or a wedding, Indian women love to adorn themselves with fine gold jewelry with exotic designs.
No wonder there are several Indian jewelry stores on Pinoneer Blvd in Artesia.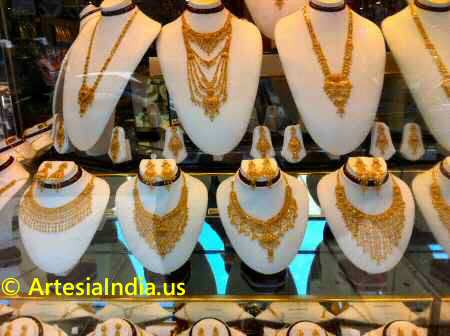 Indian Gold Necklaces
Gem Stones
Besides finished gold jewelry, beads, gemstones and silver jewelry, some of the Artesia Indian jewelry stores also offer gold biscuits, statues of Hindu Gods like Ganesha and astrological stones.
Here are few Indian jewelry stores on Pioneer Blvd in Artesia that offer a range of items:



Bhindi Jewelers

18508 Pioneer Blvd
Artesia, CA 90701


Ph: 562-402-8755




Vitha Jewelers

18501 Pioneer Blvd
Artesia, CA 90701


Ph: 562-402-4641