Indian Handicrafts Stores in Artesia
When it comes to purchasing Indian handicrafts and art work there is limited choice available in the U.S.
Pioneer Blvd in Artesia, Oak Tree Road in Edison, NJ, 74th st in Jackson Heights and Devon Ave in Chicago are exceptions.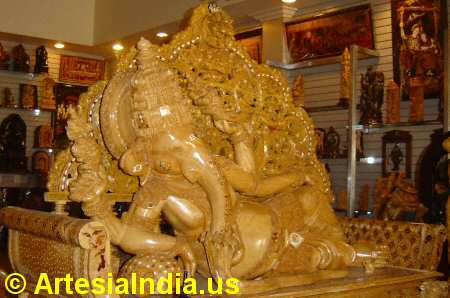 Ganesh
For there are a few stores dedicated exclusively to Indian wooden and other handicrafts items.
Pioneer Blvd in Artesia is home to a few Indian handicraft stores.
Besides peddling huge wooden handicrafts of Hindu gods like Ganesh, Nataraj, Artesia Indian handicraft stores also sell sandalwood powder and artwork as well.
Here are a few Indian handicraft stores in Artesia:
Aakar Handicrafts
18612 Pioneer Blvd
Artesia, CA 90701
Ph: 562-924-3400